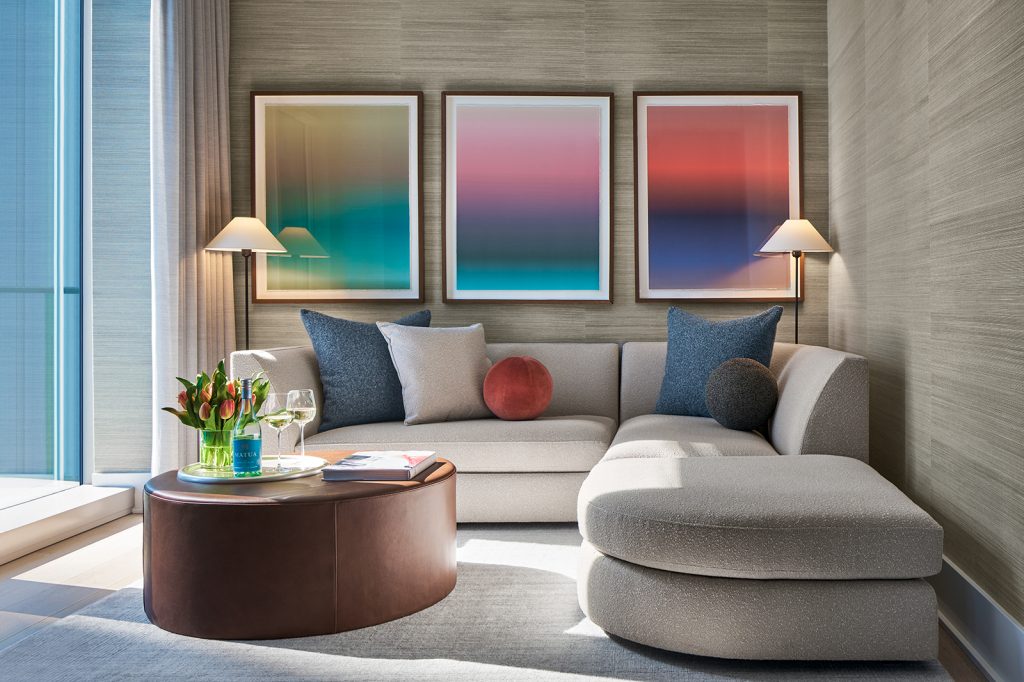 The developer of a prominent new Chicago High-rise sought a residential model apartment for their latest luxury for-sale property. The new building was designed as a regional showpiece and is located at a prominent site on the Chicago River. Strong architectural elements, including the building's silhouette, angular curtain wall design, and subtle, hombre-tinted glass, became visual cues for the design of the model interiors. Clear visual references linked the model unit furnishings and colors to the building and the property management branding.
The palette of quietly sophisticated standard unit finishes offered a warm backdrop for a suite of simple but visually strong furnishings and fabrics. Steel gray and ice blues link the unit to the building itself and the lake beyond. Rust orange, its direct color wheel complement, directly merged the model to the Property Management branding deck—a sophisticated warm coral color—found in logos and monograms throughout their portfolio.
Transitional furnishings bridge the stylistic range of potential buyers, nimbly appealing to both traditional and modern tastes. Furniture shapes and silhouettes nod to the building's iconic profile. Shifting hombre colors reference the rippling glass curtain wall and the softly changing colors of a Chicago sun-rise.
Luxury Model Apartment was designed by McGuire Architectural Interiors for St Regis Residences and Magellan Development. Photography by Craig Dugan Photography.