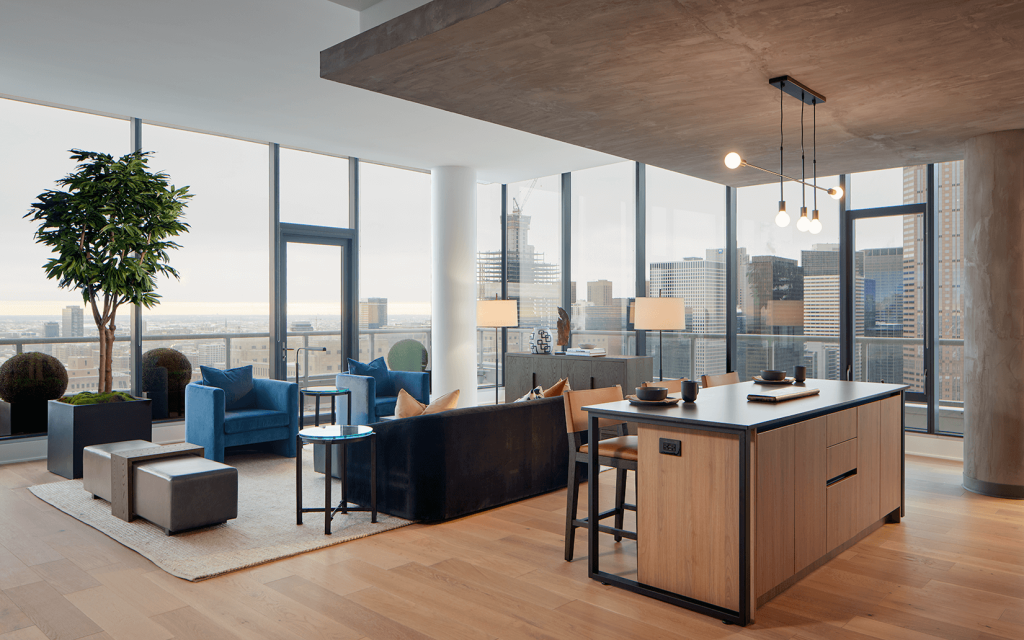 The design of a new residential mid-rise on the Chicago River took inspiration from the history of the surrounding neighborhood, blending industrial elements with natural and organic themes that complement and enhance the pedestrian experience along the river. The developer created a hybrid residential complex that combined rental apartments with for-sale condominiums. This sales center was commissioned to showcase the new lifestyle concept and reinforce the branding imagery of modernism and industrial construction. Exterior building materials were thoughtfully integrated into the palette of interior finishes, with natural steel and exposed concrete given full expression and complemented with rust and navy color accents throughout.
A lounge and presentation space with sweeping views of river and cityscape beyond was anchored with statement chairs and sofas covered in tactile velvets and mohairs. Cerused wood consoles and steel occasional tables hint at classic modern furnishings of the 20's-50's. Untanned saddle leather, meant to wear naturally, becomes a secondary theme. Navy blue, the natural contrast to the warm oak and rust colored leather, binds the various elements together.
Small vignettes displaying the building's Kitchen and Bath cabinetry and finishes are styled with restraint that subtly reinforce the branding deck. A conference room with finish selection boards artfully displayed uses simple industrial seating to complete the message.
South Loop Sales Center was designed by McGuire Architectural Interiors with Kaufman O'Neil Architecture for Lendlease Chicago.  Photography by Dave Burk.