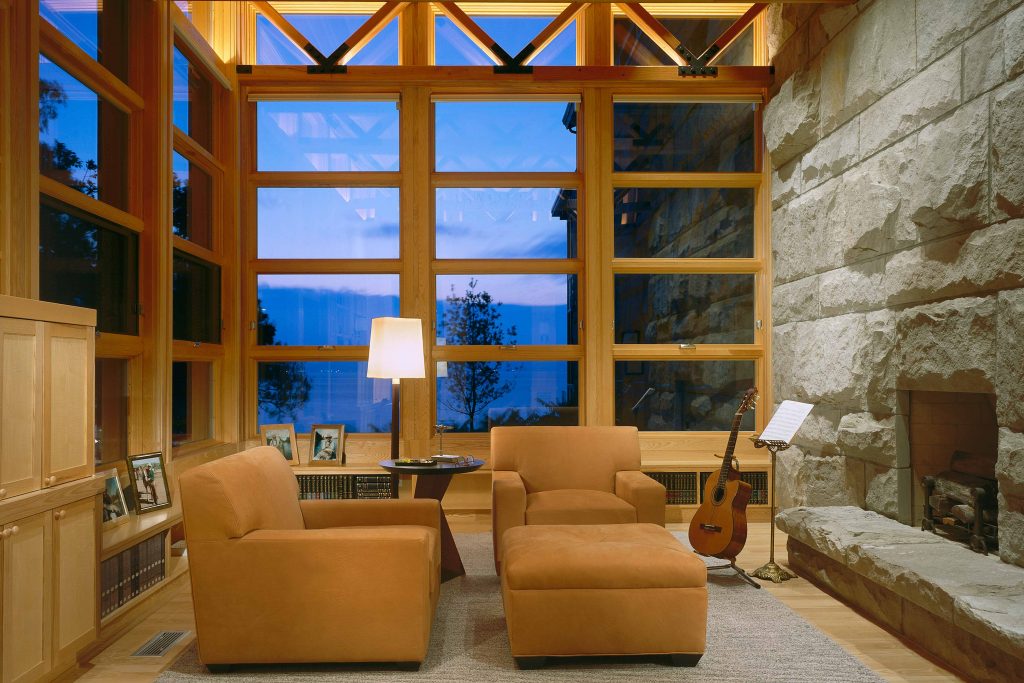 Two adjoining lots overlooking Michigan's Grand Traverse Bay were purchased and combined for the construction of a modern lodge designed for entertaining and escape. For their growing family, the couple sought large spaces for gatherings and smaller rooms for quiet retreat and individual privacy. The design directive was casual but sophisticated, with Midwestern sensibility and inventiveness.
The house is built entirely of regionally sourced fir, cedar, limestone, and copper. A simple system of wood columns and beams establishes an orderly plan for circulation and living spaces. Long spines extend past interior spaces to join the garage and pool house to the main lodge and help merge the house into the surrounding landscape. 
Large-scale limestone shear walls moderate private and public rooms, frame special views, and also help anchor the house to its site. The grand scale of the entertaining rooms is balanced by smaller, more intimate pocket rooms and guest suites. A laboratory and workshop were planned for the children to encourage their creativity. Special accommodations were made for modern and future communications and amenities.
Traverse Bay Lodge was designed by Patrick McGuire, Linda Searl, and Amy Graves for Searl, LaMaster Howe Architects. Photography by Bruce Van Inwegen.