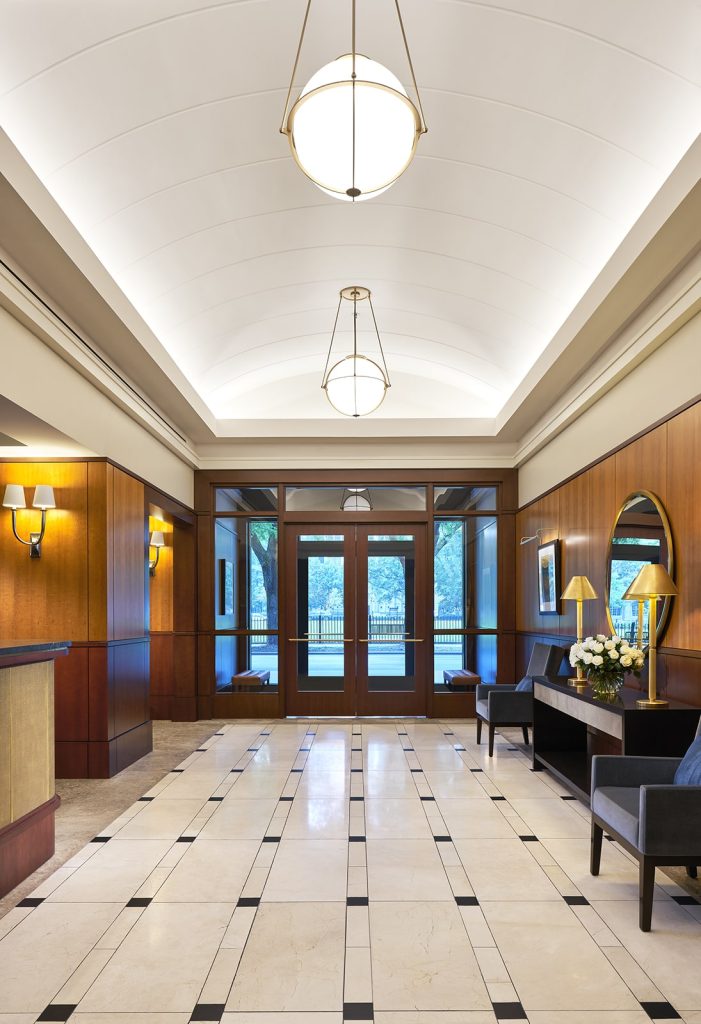 A discrete, boutique mid-rise in Chicago sought functional and aesthetic improvements to its Lobbies, Lounges, and Corridors that enhanced security and circulation and added a new shine to its handsome architectural details. An intricate passage to the elevator banks was realigned, and new accommodations for deliveries and package storage were added. The mailroom was reconfigured, and new access to the loading areas was discretely incorporated.
The elegantly detailed Lobby was given a subtle lift with new lighting that highlights its amber and walnut paneling. Bold, iconic globe fixtures with neoclassic details replaced modern pendants in the barrel-vaulted ceiling. Finely textured brass panels fitted to the new reception desk announce its importance and introduce a new brass finish to the building's palette. The Sitting Room, adjacent to the Lobby, was treated with a custom paint finish that complements the existing wood panels. A bold new chandelier was added that flatters the deeply coffered ceiling above.
Throughout the property, steel blue fabrics and finishes modulate a careful transition from the amber-colored Lobby and Sitting Room to the silvery palette in the corridors on the upper floors. Applied once again to the unit entry doors, the color creates a recognizable visual anchor and acts as a strong focal point at the ends of each corridor.