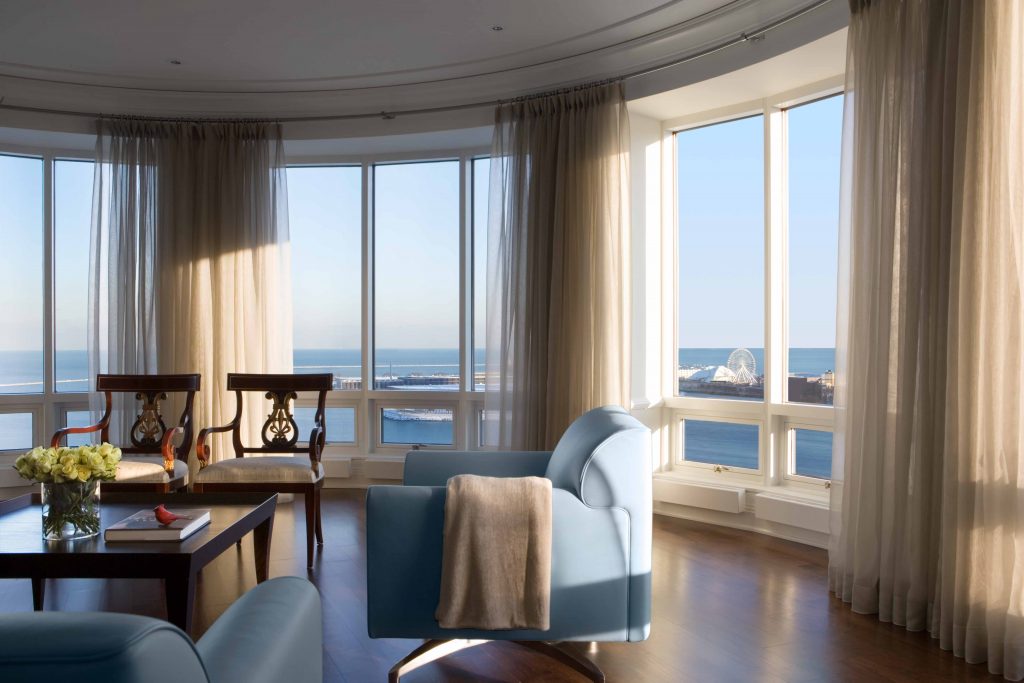 Lake Shore Drive Apartment
Based on the classic pre-war apartments of Chicago's Gold Coast, this all-new condominium was designed and built for an active family of four, with modern amenities thoughtfully integrated into its plan and details. The sequence of spaces alternates between formal rooms and transitional passageways, helping to focus views and increase the apparent volume of rooms through the simple regulation of compressed and expanded spaces. Utilities, storage, and support functions line the areas between primary rooms: a hallway becomes a Butler's Pantry, door jambs become Coat Closets,  passageways are fitted with cabinets that conceal media equipment. 
The perimeter walls are treated formally with applied trims and panel molding and are whitewashed to a uniform warm white. Walnut floors are ebonized. The effect conjures a traditional envelope that is dematerialized and simplified. The result is a crisp, serene backdrop for a collection of singular and sculptural furnishings. New cabinetry and built-ins match the scale and form of their traditional furnishings but are detailed with pared-down profiles and finished in striking veneers. Hardware and fittings are kept minimal and uniform. Modern appliances and lighting fixtures are intentionally conspicuous, heightening the contrast between old and new. 
Lake Shore Drive Apartment was designed by Patrick McGuire for Related Midwest. Photography by Craig Dugan.